Cathedral Rock
This is a short, steep climb into the saddle points or "gaps" of Cathedral Rock. The towering side rocks keep the saddle points shaded and breezy; but the lower portion of the trail is bare red rock with total sun exposure - be careful if you're doing this in the summer.
Trailhead:
From the 89A / 179 "Y" ... take 179 south 3.4 miles;
turn right on Back O' Beyond Road for 0.6 miles;
parking lot is on your left.
Length:
1.5 miles (up and back) Elevation change: 600 ft
Notes:
Steep!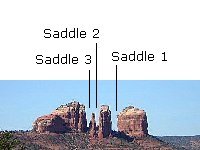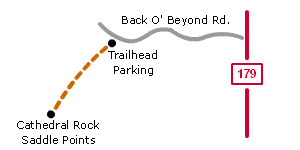 The Hike

Looking up at Cathedral Rock near the trailhead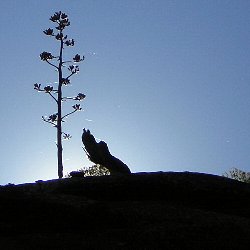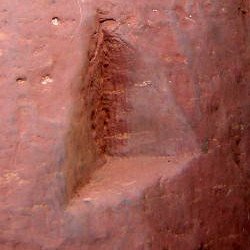 If you go early you can see the sun coming up behind a century plant high above your head. The first half of the climb is so steep that people have carved steps in the rock.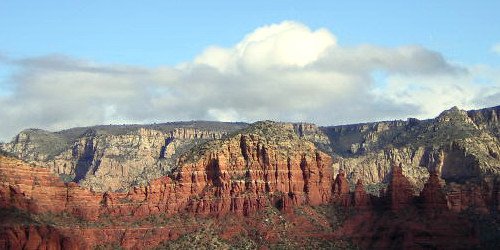 View from the first saddle point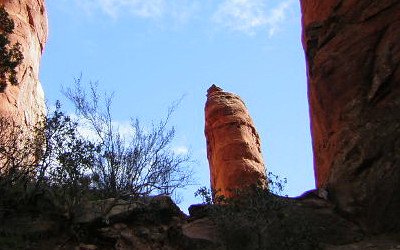 Looking up at a spire in the second saddle point

Near the third saddle, looking back
Detour: Templeton Trail
The Templeton trail crosses the Cathedral Rock trail near the base; if you take it to the right you'll descend into a deciduous forest and follow Oak Creek to Red Rock Crossing, with views of Cathedral Rock from the back. For the best views, stay on the path when it changes its name to the Baldwin trail, and when Baldwin ends at a dirt road turn right and walk down the road for 10 minutes. (There's also an unofficial trail that cuts from Baldwin directly to Red Rock Crossing, avoiding the dirt road - it's more scenic, but not always maintained and passable.)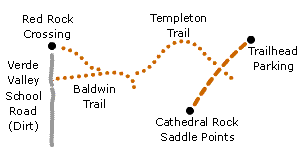 ---
home | hikes | parking | weather
---