Wilson Canyon
This trail is mainly level and unusually shady, making it the perfect hike for hot weather. At the very end the trail climbs above tree level onto a small exposed hill, giving you 360 degree views of the canyon walls. There is also a detour that lets you see Steamboat Rock close-up.
Trailhead:
From the 89A / 179 "Y" ... take 89A north 1.9 miles;
parking lot is on your left just past Midgley Bridge.
Length:
3 miles (out and back) Elevation change: 400 ft
Notes:
Parking lot can get crowded on summer weekends.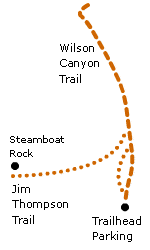 The Hike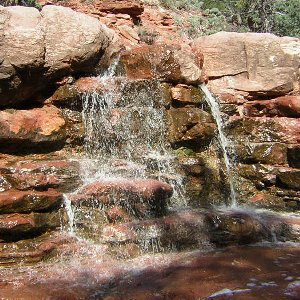 This ambiguous sign near the beginning indicates a fork in the trail.
The right fork is the "real" trail; left is a rough trail with seasonal waterfalls.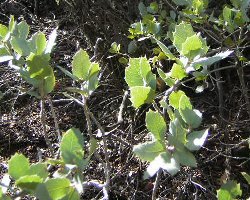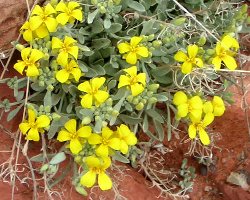 Some of the local plantlife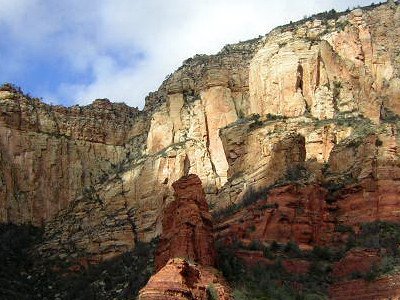 View of canyon walls from the end of the trail
Detour: Jim Thompson Trail
The Jim Thompson Trail branches off of the main trail about a quarter of the way into the canyon. It takes you to the base of Steamboat Rock and provides views of the canyon walls along the way.

View from the Jim Thompson Trail, and Steamboat Rock
---
home | hikes | parking | weather
---